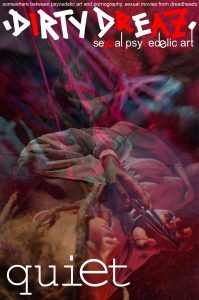 quiet isnt as quiet as his name. but still it is.
it holds 3 scenes.
chilli elfe and anuskatz playing with some rope, toys and a strap on.
sizzy and franzz van kreidl fucking each other.
little z playing with his rope bunny anuskatzz.
a bigger range of music genre and a very powerfull and artistic way of editing bringing us in a new direction. things go by far more crazy as in the old movies, even that this is even older recordings than the last one.
there is some extra fotage of anuskatzz playing with herself and little swastika is playing a old analog synthesizer to give also an extra for your ears.
the video edit is done by manvarle.com